On the Buses
- How Todmorden led the Way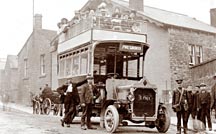 Todmorden folk have always prided themselves on being go-ahead, which is why it comes as no surprise to discover that, when the decision was taken to run a public transport service in the early years of the last century, the town worthies opted for the new-fangled motorbus in preference to the tried-and-tested trams and trolley-buses.
While others were playing it safe, the Borough of Todmorden became only the second in the country to run buses, then in their infancy - although it must be said that the decision was tempered by considerations such as cost and the narrow, often hilly roads in the area, which had caused quite a few problems when Halifax started their tram service in 1898.
The pioneering service was all set to get 1907 off to a flying start but almost immediately there were problems: crowds of people gathered on New Year's Day to catch a glimpse of the three double-deck and one single-deck buses ( Rykneid and Critchley-Norris vehicles respectively), which would link Todmorden town centre with the far-flung districts of Cornholme and Walsden, only to be told that ``the commencement of the motor bus service is postponed until further notice owing to the inclement weather.''
Not surprisingly the announcement was met with howls of derision. What was the matter, people asked? "Fine weather buses, were they"? "Didn't they want to get the smart new paint wet"?
As the morning wore on hundreds of disgruntled would-be passengers besieged the Town Hall, so bitterly disappointed at the delay that the Mayor, Alderman Abraham Crossley, finally pleaded with Councillor Wilkinson, chairman of Todmorden Motor Bus Committee, to allow the buses to run or face a riot!
The drivers and conductors were standing ready; eventually it was whispered that one of the smart, yellow enamelled buses would shortly leave the Electricity Works, where the four vehicles were garaged. At 2 pm a single-deck bus was seen edging its way round the corner of the Town Hall, to be met with cries of delight from the assembled crowds, who clamoured to board it.
The vehicle was packed as it set out on its momentous journey to Walsden. Todmorden Bus Service was born!
What did passengers do to spot the buses? And why were wooden blocks needed? To find out read Milltown Memories.
---
Read the full story in Milltown Memories. If this or other stories stirs a memory, we'd be happy to know - send us your memories and comments.