Just Champion!
The Upper Calder Valley has been the birthplace of quite a few notable personalities — among them Poet Laureate Ted Hughes, and nuclear physicist Sir John Cockcroft — but less well known is a man who made his mark roller-skating!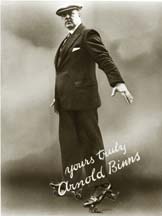 Arnold Binns, of Hebden Bridge, first established a new world endurance record at the age of 47 years by skating non-stop for over 40 hours at Burnley in June, 1930.
The following month he topped it by more than 20 hours in Preston, surviving on an unusual diet of tripe and Horlicks! He then skated the entire length of the country, from John 'o Groats to Lands End, losing a stone in weight in the process but suffering only a blister on his right foot.
Amazingly Arnold Binns continued to break skating records well after his 50th birthday and, in front of a crowd of 4,000 in Batley, smashed the previous best time of 174 hours 31 minutes by over two hours. During this week-long feat of endurance it is reported that he was allowed a 15 minutes break every hour but did not sleep the entire time.
He was evidently so proud of his achievements that he had a postcard printed, commemorating the records — and advertising the fact that he had used Chicago Roller Skates!
---
Read the full story in Milltown Memories, issue 3. If this or other stories stirs a memory, we'd be happy to know - send us your memories and comments.