The Legend of West End
By Issy Shannon
In the last in our series on a Hebden Bridge photographer's studio, the story continues as Alice takes the reins:
In 1936 Alice — with the help of her family — took over Crossley Westerman's at West End, Hebden Bridge, little guessing that she was embarking on a business career that was to last more than 50 years.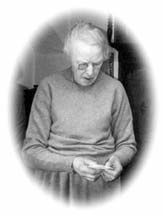 The name over the door became "Alice Longstaff: Photography. Pictures. Framing." And Alice rapidly established a reputation for "social" photography — family groups, special events such as engagements and weddings, and, as the Second World War broke out in September 1939, photos of loved ones going into the forces which were to become especially treasured.
Those who remember Alice in later life also recall that she wore a monocle as an aid to the painstaking work she undertook in the studio. On a ribbon round her neck it was also an unusual accessory for the fashion-conscious Alice, known for her elegance and tall, striking figure - she was always immaculately turned out in tweeds and wore clogs for her long tramps over the moors.
Indomitable to the end, Alice had entertained guests only a few days before she became ill; she was just three months short of her 85th birthday when she was admitted to hospital in Halifax, where she died on January 10, 1992.
Following the death of his beloved wife — his partner for nearly 57 years — John returned to his native Northeast. He died, aged 89, in 1999.
Typical of a woman who always wanted to be different throughout her long life, Alice is buried in the garden of her old home at Colden, her grave marked by a simple stone which, it is said, is a favourite "rubbing" spot for grazing cattle.
Alice would have liked that.
---
Read the full story in Milltown Memories, issue 3. If this or other stories stirs a memory, we'd be happy to know - send us your memories and comments.