Setting the Pace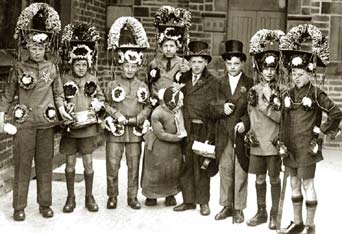 Click image to enlarge
It's said to be the oldest drama in the world, dating back to ancient Egypt and performed by many civilisations across the centuries.
Now the Pace Egg Play is confined largely to the Calder Valley where it has become an established tradition, played out in all its gory glory on Good Friday.
This year, without fail, St George takes on contenders such as Bold Slasher, the Black Prince of Paradine and Hector, aided and abetted by other equally outrageous characters such as Toss Pot and the Doctor.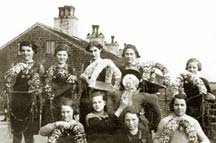 The costumes — in particular the strange headgear comprising a towering edifice garlanded with flowers, peculiar to the Calder Valley — are as much a part of the fun as the action, where violent sword fights predominate but, as ever, good triumphs over evil.
Records of performances of the Pace Egg Play (the title is derived from "paschal," the old name for Easter) date back to the middle ages but in more recent years the custom had fallen out of favour.
Thanks largely to research into its antecedents by Midgley journalist and historian Henry Harwood, the tradition was revived in 1932 when the play was performed by pupils of the village school. It was broadcast to the nation two years later following interest from the BBC, attracting, it is said, one of the biggest-ever audiences in radio history.
The play was broadcast again in 1952, performed by pupils of Calder High School, Mytholmroyd, who have been recreating the drama throughout the upper Calder Valley every year ever since.
A different version of the story is also played out by the Heptonstall Pace Eggers, who revived the tradition in 1979.
---
Read the full story in Milltown Memories, issue 3. If this or other stories stirs a memory, we'd be happy to know - send us your memories and comments.