Was It Cold-blooded Murder?
A Heptonstall mystery
Was it murder? That was the question on every lip in Heptonstall, a year after the infamous Jack the Ripper killings had terrified millions of Londoners.
A mysterious death, equally chilling, occurred in an Upper Calder Valley hostelry, remaining unresolved to this day.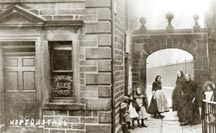 Photo AT 031: Were these ladies outside the Black Bull, Heptonstall, gossiping about the strange incident which had taken place a year earlier just a few doors down the street? The mystery was to puzzle villagers for many years to come.
The drama began on the afternoon of August 8, 1889, when Mytholmroyd stonemason William Clarke visited the Dog and Partridge Inn, Heptonstall, together with his brother Thomas.
The pair were joined by four women - "Sally a' the Dog" (licensee Hollinrake's wife), Sally Clegg (also known as "Sally i' the garret), Nellie Fearby, a hawker, and Emily Clark.
Following Thomas' departure at this point, there began a heavy drinking session which continued after William had retired to the attic with three of the women where, according to Sally Hollinrake, "some jollifaction" took place.
Around seven in the evening William was left to sleep off the effects of the drink and his other exertions but he had recovered enough to come downstairs two hours later, when, it was recorded, he had some veal pie and a noggin of whisky. He then went back upstairs to a small room off the main bedroom where he was last seen sitting in a chair at 10.30pm.
An hour later he was found lying in the street outside the inn, suffering from terrible injuries from which he subsequently died in the early hours of the following morning.
So did he fall - or was he pushed? As far as the good folk of Heptonstall are concerned - the jury is still out.
Exactly how William died was never, satisfactorily, explained. The full story - and the scathing press report of the inquest - are told in Issue 5 of Milltown Memories
---
Read the full story in Milltown Memories, issue 5. If this or other stories stirs a memory, we'd be happy to know - send us your memories and comments.