Hope Springs Eternal
How Valley folk fought the Demon Drink
For over a century sober-minded Upper Calder Valley folk valiantly fought what many considered to be the curse of society - demon drink.
Set up at a time when hard liquor was generally viewed as a necessity much on a par with food and water, organisations such as the Band of Hope Union battled to counteract the influence of public houses and the brewers, establishing alcohol-free premises and holding rallies attended by thousands of supporters.
Yet the writing was always on the wall. By the second half of the 20th century the temperance movement had all but succumbed to the changing cultural habits of the times. The battle was not easily lost, however......
The roots of Hebden Bridge and District Band of Hope Union were firmly planted in 1852, when Hebden Bridge and Heptonstall Temperance Society was formed, with the specific intention of rescuing "unfortunates" whose lives had been blighted by drink.
The Union - the parent body of the movement - was founded in Hebden Bridge in 1865. Todmorden Band of Hope Union followed four years later, in 1869.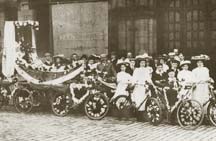 Photo AT 088: Hebden Bridge Band of Hope - bicycles at the ready! - outside the Council offices in 1909
Coffee taverns were established in both towns. The first in Todmorden was funded and built by local worthy John Fielden in 1880, surviving until 1913 when the premises became a Conservative Club.
To keep teetotallers on the straight and narrow there were lectures illustrated by "magic lantern" and noted personalities were invited to the district, to speak at public meetings in support of the cause.
Lack of support caused Hebden Bridge Band of Hope to fold in March 1952. But the story did not quite end there, for in keeping with modern social trends the Band of Hope was transformed into Hope UK, a national charity, which today is dedicated to educating young people about the perils of drug-taking.
Some might say the foe may be different - but Hope still springs eternal!
---
Read the full story in Milltown Memories, issue 5. If this or other stories stirs a memory, we'd be happy to know - send us your memories and comments.