When Derek's Dad Got the Bird!
Mention of the Japanese chick sexers in a previous issue brought memories flooding back for Derek Riley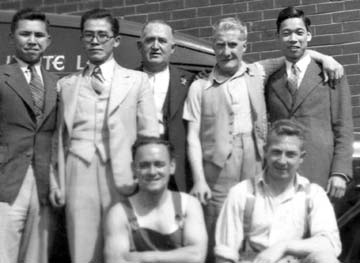 Code no CT180DR: Kunio Takahashi, standing right, one of the Japenese chick sexers who divulged the secret! Here he is pictured with two fellow countrymen together with Walter Lord and Jack Lord, standing left and right, and Jack Riley and Ernest Riley, left to right, seated front. Reproduced by kind permission of Derek Riley
My grandfather, Walter Lord, and his brother Jack were "Lord Bros," proprietors of a chicken hatchery originally at Old Chamber then, successively, by the railway at Hebden Bridge and finally at Whitelee in Mytholmroyd.
This was a favourite playground for my friends and me. There were huge stacks of cardboard boxes used to ship day-old chicks. For us these were the equivalent of a giant Lego set and we would spend hours constructing tunnels and dens inside the stacks, especially in winter when the whole premises were beautifully warm.
Many years later I was told Caldene started because of the General Strike when all the trains stopped running. It was a disaster for the hatchery and they came up with a solution to keep solvent. Clearing out one of their old army huts used for the chickens, some of the wives, children and friends installed sewing machines and the mail order adverts were changed from chickens to clothing.
One day, probably in 1937 or `38, my dad Jack Riley brought an unusual visitor home for tea. His name was Kunio Takahashi and he came from Nagoya in Japan. He was one of many chick sexers sent around the world under Japanese government direction and control.
He and another, whose name I forget, worked some of the time at Lord Bros. At that time chick sexing was a craft secret discovered in Japan and closely guarded. However he must have struck up a friendship with my dad because he taught him the skill and that proved to be a valuable asset later.
When war was declared all the Japanese were interned and there were only a handful of non-aliens able to carry on the work.
---
Read the full story in Milltown Memories, issue 10. If this or other stories stirs a memory, we'd be happy to know - send us your memories and comments.