Donald Turns Detective
Donald B. Crossley, artist and childhood friend of Ted Hughes, solves a poetic puzzle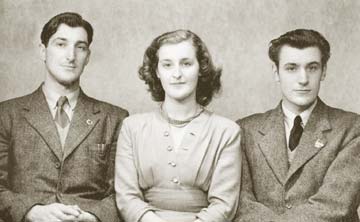 Code no 023LG: Ted Hughes, right, pictured with brother Gerald and sister Olwyn. Photograph reproduced by kind permission of Lloyd Greenwood
Late in 2002 Peter Thomas, of Hebden Bridge, phoned me and asked what did I know of Ted Hughes' poem "Six Young Men," in particular where was it set? I told him I hadn't even heard of it.
After that I read the poem many times and was baffled. It was going to be quite a problem solving the mystery but in April 2003 I made a start.
Looking at an Ordnance Survey map of the Crimsworth Dean area I found seven cloughs above Lumb Bridge: Middle Moor, Bent, Calf-Hey, Hargreave and Hardibut Cloughs, and Paddock Beck and Grain Water. These combine to create Crimsworth Dean Beck which, at Lumb Bridge falls to the "Roarer in the Bottom - Lumb Falls," as Ted describes them in his poem.
On a glorious spring afternoon I set off to explore the area.
Follow in Donald's footsteps and discover the fascinating background to Ted Hughes' powerful and evocative poem in issue 10 of "Milltown Memories."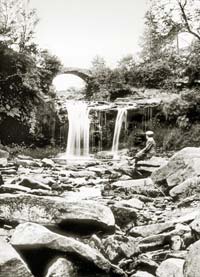 Code no 293a: Lumb Falls, Crimsworth Dean, now revealed as the setting for Ted Hughes' poignant poem about six young men who went off to war in 1914. The date of this photo is a little earlier, around 1900. HBLSS.
---
Read the full story in Milltown Memories, issue 10. If this or other stories stirs a memory, we'd be happy to know - send us your memories and comments.