Tales of Old Todmorden
"Notes (Historical and Biographical) Mainly of Todmorden and District"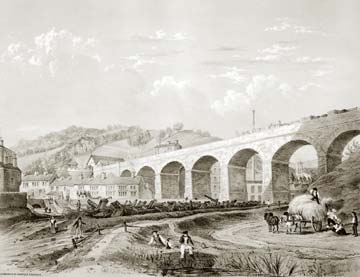 Code no 'Todmorden Viaduct & Bridge': A F Tait lithograph dated 1840. One of a series of views of the Manchester and Leeds railway Todmorden was still largely rural and undeveloped at this period. ALGC
Arguably the most eccentric book ever published in the upper Calder Valley appeared in local shops in 1896.
Written by John Travis, a hand-weaver born in the early 1800s, the sub-title gave an inkling of the contents: "Being a Narration of Events and Traits of Character; or a Series of Catches, Matches and Snatches collected from Different Sources; by Reading, Personal Communication with Other People; and also from Legends Handed Down by Traditionary Recital and Otherwise."
John Travis, of Woodshade, Todmorden, was one of four free scholars who, from 1837 - '40, attended the day school at St Mary's Church.
He put his learning to good use, throughout his life writing numerous articles for local newspapers. "Tales of Old Todmorden" was his crowning achievement.
As a no-holds-barred account of life in 18th and 19th century Todmorden and district, it is uniquely informative and entertaining.
Here are a couple of tasters:
"Gibberish" did not pay
About the year 1839-40 a paper called the "Todmorden Comet" was published here, being the third local paper of its kind. There was almost "no copy" in those days, except editors or writers had begun to call on their neighbours, and there were not many people who could spare the time to write essays and gibberish "once a month" - it did not pay.
Last penance
The last case of "doing penance" in the old church, for being the father and mother of a "chance or natural child," was performed by Mary Dawson and Jeremiah Bottomley, both of Walsden, who had to appear on separate Sundays and stand in the aisle enveloped in a white sheet during morning service.
Who "wheeled his belly" in a barrow - and what did a "tod" weigh? For the answers see issue 10!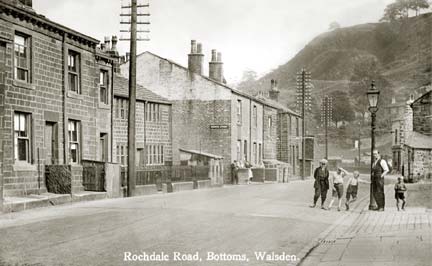 Click photo to enlarge. Code no BT934DS: The ancient name of "Bottoms" in Walsden was "Can-bottoms" but from what the name arose is not known. The land lying in the hollow below "Winter-but-Lee" was "Winter Bims" or "Bottoms", being a sheltered place for cattle during the winter. HBLSS
---
Read the full story in Milltown Memories, issue 10. If this or other stories stirs a memory, we'd be happy to know - send us your memories and comments.