Tales of Old Todmorden
Our series concludes with the story of the author John Travis - historian, antiquarian, architect... master iron founder! - who died just short of his 90th birthday on May 12 1912 and whose own extraordinary life was the equal of any of the tales he so entertainingly told.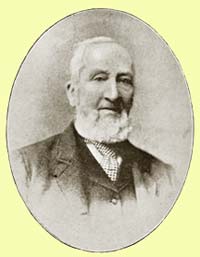 That John Travis lived at all is amazing: born near Knowl Farm, Walsden, in July 1822, "at a very tender age" he suffered a serious rheumatic illness that left him "practically a cripple for life."
But the young John was made of strong stuff. At 11 years he won a scholarship to Todmorden Endowed School where he soon shone, his teachers predicting a bright future. Life had more knocks in store, however.
A good education should have led to a cushy white-collar job but John had to settle for heavy manual work such as stone-breaking. Like many others his only other option was handloom weaving, a trade he always fell back on when times were bad.
In early adulthood John moved to Ashton-under-Lyne. For reasons not disclosed John returned to Walsden where he took up various jobs - "maker-up" and "ball sizer" among them. He was nothing if not willing to give anything a go!
John Travis was over 70 years old when his magnum opus, "Notes Historical and Biographical, mainly of Todmorden and district" was published in 1896 - a huge undertaking and the culmination of a lifetime spent observing the town and its people for whom he had such high regard.
It's as gripping today as it was when John Travis laid down his pen for the very last time.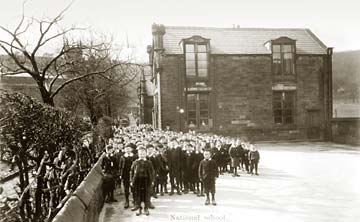 Click to enlarge
The National School was the first in Todmorden to be built under the Government's National Schools Scheme. The corner stone was laid in 1844. Church schools were later established at Priestwell, Harley Wood, Shade and Walsden. Code no 056RD ALGC
---
Read the full story in Milltown Memories, issue 14. If this or other stories stirs a memory, we'd be happy to know - send us your memories and comments.