A Hebden Bridge Soccer Dynasty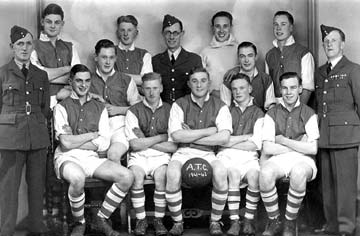 Click to enlarge
Hebden Bridge Air Training Corps football team: back row, left to right, P. Tetlow, John Ingham. Harry Cocker and Charlie Blaylock. The officer in the middle is Harry Herdman. Middle row, l to r, John Hutchinson (officer), Eric Wilkinson, John Astin and Lewis Greenwood (officer). Front row, l to r, Jack Crossley, Fred "Snowy" Stansfield, Roy Crossley, John Greenwood and Jimmy Haslam. Code no AT008 ALGC
The Charlton brothers - Bobby and Jackie - may have captured the attention of the national and international soccer world in their day.
But the upper Calder Valley had its own footballing heroes in the form of a trio of brothers - Roy, Jack and Russell Crossley - who went on to shine in soccer circles in the 1940s and `50s.
Roy went for trials with Stoke Football Club and, following his service with the R.A.F. during the war, later played for Halifax.
Jack played part-time for Huddersfield, after the war moving to Plymouth where he taught woodwork, while younger brother Russell was goalkeeper for First Division Liverpool in the 1950s.
The photo marked Hebden Bridge A.T.C.'s notable achievement in reaching the All Yorkshire finals in 1942 when they were beaten 2-1 by Goole at Elland. The team was trained by A.T.C. officers John Hutchinson, Harry Herdman and Lewis Greenwood and Hebden Bridge Grammar School teachers Mr Cain and Mr Eastman.
Sadly the war brought to an end the possibility of victory in further matches, most of the lads pictured joining the forces soon after the photo was taken.
---
Read the full story in Milltown Memories, issue 14. If this or other stories stirs a memory, we'd be happy to know - send us your memories and comments.