Christmases Past
It Wasn't Always Festive Fun!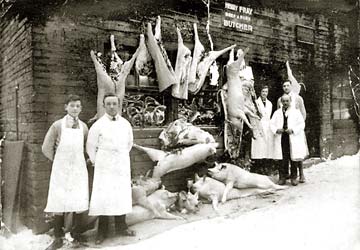 Click to enlarge
Not everyone looked forward to Christmas! Pigs, a staple part of the festive fare, are all ready for the table at Henry Fray's butchers, of Hebden Bridge and Luddenden, where staff were kept busy in the 1920s and '30s. Established by Henry Fray, who also had a stall in Hebden Bridge Market, the business was taken over by Elias Hillyard following Mr Fray's retirement just before WW2. He moved down south but didn't miss out on his Sunday lunch - Elias Hillyard sent him a joint of meat by post every week! Code no AT849GF ALGC
Issy Shannon Delves into Santa's Stocking
Shoppers could always rely on Hebden Bridge Co-op for those last minute gifts. In 1948 Santa had taken over all 194 warehouses according to this appealing advert promising "everything for Christmas at the Co-op."

Upper Calder Valley folk have always celebrated Christmas with gusto but occasionally circumstances made it a season of anything but joy and unbridled festive merriment.

Not surprisingly the First World War put a distinctive dampener on the fun - Christmas of 1916 went down in local annals as one of the quietest on record: "The war influenced everybody to take things more philosophically and there was little holidaying away from home," glumly reported the press.

Twenty-five years later, in 1941, it was blackout fatalities that were making the news. A few days before Christmas a woman, who later died, was found lying unconscious on Keighley Road suffering from a head injury. It was presumed she had fallen over the wall at Old Lees in the pitch dark.
In 1948 Lydgate merry-makers faced the grim prospect of dinner minus the bird: thieves got away with five turkeys, 17 geese and eight chickens from butcher Walter Widdup, all locally reared and "spoken for."
As usual the guardians at Stansfield View workhouse - commonly known as "Beggarington" - really got into the Christmas spirit. No less than 74 "inmates" sat down to "a bountiful supply of roast beef, vegetables and plum pudding." But there were limits. Afterwards they were banished to their bedrooms whilst their benefactors tucked in to their own festive spread.
Which Christmas was entirely fruitless? And who vandalised the festive tree? More in Issue 14 of "Milltown Memories."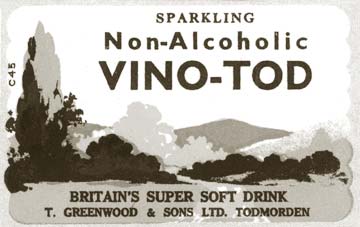 Greenwood's "Non-Alcoholic Vino-Tod" was particularly popular with festive merry-makers on the wagon. Whatever became of "Britain's Super Soft Drink" made in Todmorden?
---
Read the full story in Milltown Memories, issue 14. If this or other stories stirs a memory, we'd be happy to know - send us your memories and comments.