To Be Or Not To Be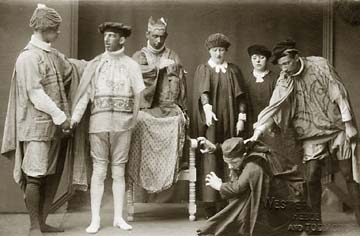 Click to enlarge
Heptonstall Players perform The Merchant of Venice. Left to right, Fred Helliwell, Stanley Sutcliffe, H. Robertshaw, Beatrice Whiteley, Winne Whiteley and Clifford Sutcliffe. Front, Garnet Haigh as Shylock. Code no CT237KN
Reproduced by kind permission of Mr Keith Newbitt.
Keith Newbitt Recalls the Glory Days of The Heptonstall Players
In the early years of the last century the centre of nearly all the social activities and amusements centred on the churches and chapels.
Shortly after his arrival as Vicar in 1913, Percival Gough was to begin a remarkable experiment which fired the enthusiasm of the ordinary working people of Heptonstall, he decided to attempt a "flight into sordid drama" - the plays of Shakespeare.
The first attempt, the quarrel scene from Shakespeare sandwiched between Pierrot songs, was not a success: the audience had never heard of Shakespeare and was glad when it was all over.
Beatrice Whiteley
as Lady Macbeth.

Reproduced by kind permission of Mr Keith Newbitt.

Code no CT238KN

The breakthrough came when a young man, tired of the narrowness of village life and the monotony of his job as a weaver, started reading Shakespeare and his enthusiasm was fired.

He was so enthusiastic that he fired one or two others and soon they had a small repertoire of scenes and decided to present them on two evenings one Christmas. So the Heptonstall Players were born.

Their efforts may have gone unnoticed had they not come to the attention of Mr W.B. Dow, of the Leeds Industrial Scheme, whose aim was the popularisation of serious drama in his own and other factories and workshops in Yorkshire.
The Heptonstall Players were invited to give a performance in Leeds where they received an enthusiastic reception from the large audience and critical acclaim in the press.
Following their success invitations poured in from all over Yorkshire and Halifax Trades Council arranged a performance in Victoria Hall. By this time - 1922 - the Rev Gough had left the village.
How long the Heptonstall Players carried on I don't know - perhaps readers will be able to supply further information.

| | |
| --- | --- |
| | As well as scenes from Shakespeare the programme also included "A Heptonstall Hoax - A Little Comedy by One of the Players." Always adept at keeping things simple the props included "three orange boxes and some curtains," to quote the programme. |
---
Read the full story in Milltown Memories, issue 14. If this or other stories stirs a memory, we'd be happy to know - send us your memories and comments.