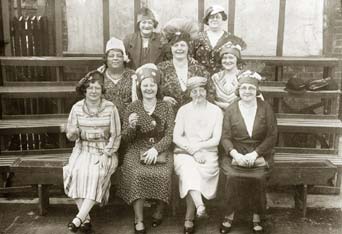 These jovial ladies are all set for a pub outing to the seaside. But who are they? And where are the menfolk? Answers in Milltown Memories Issue 7! Code no BT 940DS. Reproduced by kind permission of Mrs Dorothy Smith.
Click image above to enlarge

Milltown Memories is a glossy magazine devoted entirely to the Upper Calder Valley, West Yorkshire. Issue 7 is now out.
Click items on the left for taste of features and photos included in the Spring 2004 issue of Milltown Memories. Or click on the photo above to see a larger version.
Issue 7 is on sale (£2.80) now throughout the Upper Calder and at selected outlets in Halifax. You can order online this and previous issues, or by post from Milltown Memories at: 6 Melbourne Street, Hebden Bridge, HX7 6AS. Tel: 01422 845050.
A subscription makes an ideal gift!
Your are visitor since Wednesday, September 18, 2002