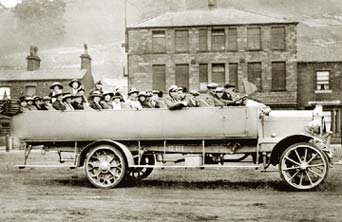 It's impossible to count how many passengers squeezed into this amazing-looking vehicle, prior to setting off from the market square, Hebden Bridge circa 1920, for goodness knows where, but let's hope the sun shone!
Click image above to enlarge
Code No AT319, ALGC

Milltown Memories is a glossy magazine devoted entirely to the Upper Calder Valley, West Yorkshire. Issue 3 is now out.
Click items on the left for taste of features and photos included in the Winter 2002/03 "Bumper" issue of Milltown Memories . Or click on the photo above of the "scene from the sewing shop" to see a larger version.
The 48-page Issue 3 is on sale (£2.50) now throughout the Upper Calder and at selected outlets in Halifax. You can order online this and previous issues, or by post from Milltown Memories at: 6 Melbourne Street, Hebden Bridge, HX7 6AS. Tel: 01422 845050.
A subscription makes an ideal gift!
Your are visitor since Wednesday, September 18, 2002