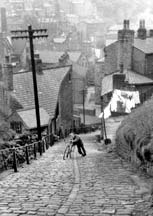 Reproduced with the kind permission of The Jack Uttley Collection
Jack Uttley, who died earlier this year aged 88, will be sadly missed by the many people he whose lives he enriched, throughout a life-time devoted to the area he loved.
A founder member of Hebden Bridge Local History Section, Jack established Mytholmroyd Historical Society in 1991.
Jack was also renowned for his collection of photographs, which have appeared in numerous publications. JackÕs skill with a camera is exemplified in this photo of his son, John, taken in 1957.