History on a Plate
You could say history is served up on a plate at the Black Lion - and it also comes with a pint!
That's because licensee Wendy Hoyle and her husband, David (better known as Spike) have combined all the usual amenities of a first-class pub with a "museum", featuring old photographs and memorabilia recalling a time when Luddendenfoot was a busy, bustling community with a character all its own.
The photo, from their collection, shows Burnley Road just before wholesale demolition of property took the heart out of the community in the 1960s.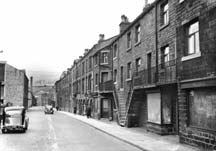 Reproduced with the kind permission of Spike & Wendy Hoyle
---
Code No. BT881
Read the full story in Milltown Memories, issue 4. If this or other stories stirs a memory, we'd be happy to know - send us your memories and comments.