A Green Future for the Crags
Plans to renovate Gibson Mill and turn it into a key community resource are on target for completion by spring 2005.
The £1.6 million scheme, designed by the National Trust and funded by a Heritage Lottery Grant, involves turning the ground floor into an exhibition area, with space on the first floor for community events and educational workshops. The weaving shed will be transformed into a cafe.
Water power, solar energy and composting toilets are among the "green" innovations which will ensure the flagship project is completely self-sustaining.
In the meantime the Trust is holding a series of events throughout the summer, details of which are in issue one of the Hardcastle Crags Newsletter (free of charge and available at outlets throughout the area including Hebden Bridge Tourist Information Centre).
For more details contact Tim Brooks on: (01422) 844518; or e-mail: hardcastlecrags@nationaltrust.og.uk.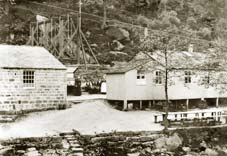 Code No. bt885 ALGC
---
Read the full story in Milltown Memories, issue 4. If this or other stories stirs a memory, we'd be happy to know - send us your memories and comments.