Moderna Models Revealed
Our feature on "Mighty Moderna" (issue 3) attracted a great deal of interest.
Mrs Norma Uttley (nee Wadsworth) not only identified all the children taking part in the mannequin parade but provided a photo of the event taking place in the canteen.
The fashions were described as "utility style" and, in a scoop no doubt, it was revealed that a new material - wool-fibro - had been used.
Thanks to Mrs Norma Uttley we can now put a name to the budding Moderna models featured in our spring issue: left to right, Edward Marshall, Judith Marshall, Lynne Marshall, Valerie Culpan, Pat Crabtree, Paul Hargreaves, John Crabtree, Norma Wadsworth, Susan Peckover and Anne Greenwood.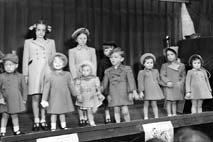 Code No. bt885
Also in our summer number: "Slack-on-Sea" - even better than Blackpool! - the "deplorable state of children's teeth" in Todmorden, where larks were caught for singing competitions - and - "Secrets of the Coffin Book!"
---
Read the full story in Milltown Memories, issue 4. If this or other stories stirs a memory, we'd be happy to know - send us your memories and comments.