Boyhood Memories
Arthur Robinson recalls his Eastwood childhood
I was born at Potball, Higher Underbank, in 1932, in one of Tommy Stansfield's cottages. There were no services at all - no water, gas or electricity.
We had to carry water from a well 100 yards away and we had a communal ash midden (commonplace in rural areas at that period), periodically emptied by the local council along with the outdoor "tub" toilets. All for 1s 6d (approximately 7p) rent a week!
I was seven when we moved to Burnt Acres Lane - a slightly up-grade property boasting gas lighting but still with no water laid on. An outdoor tap supplied 14 or 15 houses and there were the usual "tub" toilets at the bottom of the properties.
Among my treasured boyhood memories are the annual visits of the maypole dancers, collecting frog spawn from Jumble Hole Dam, running down Burnt Acres Lane with the neighbours' post, to catch the evening post bus - and wearing short trousers and boot clogs up the age of 14 years, when you left school.
Arthur moved to Roomfield Secondary School, Todmorden, and at 14 years left to join decorators Round's, later setting up in his own business. Now retired and living in Hebden Bridge he is a keen sports fan, particularly enjoying a game of bowls.
Arthur's recollections of shops, pubs and business in Eastwood, now long gone, are related in fascinating detail - sure to inspire lots of memories!

Arthur spent many a happy hour watching steam trains race through Eastwood at a speed of knots.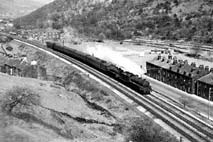 Here, a pair of Class B1 locomotives are on their way to Manchester in April 1960. The houses at Duke Street, left, have since been demolished.
Code No. at759gda, Reproduced with the kind permission of Mr Geoff Dawson.
---
Read the full story in Milltown Memories, issue 4. If this or other stories stirs a memory, we'd be happy to know - send us your memories and comments.