Pressed For Time
Sir Bernard Ingham Looks Back
On His Early Years In Journalism
October 18, 1948, 9am, precisely. That was when I began work as a junior reporter on the Hebden Bridge Times in the old Ebenezer Baptist Chapel in Market Street.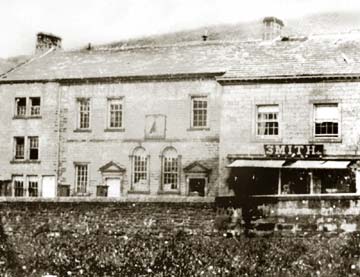 The former Ebenezer Chapel, Hebden Bridge, opened in 1777,
later the offices of the Hebden Bridge Times. AT476 ALGC
Kershaw and Ashworth must have had the only newspaper office in Christendom with a graveyard for a frontage. I examined the tombstones while gathering news on the reporters' sole telephone on the window sill. Incidentally, I had never used a telephone until that first day. The infernal bakelite machine was initially terrifying.
My editor was the ageing Will Ashworth. He did not play a major role in my journalistic upbringing, except on Thursday, press day, when I had to proof-read with him. When he felt unwell I had to climb up to his home in Sandygate to read copy for him while he checked the proofs.
My tutor and chief reporter was Walter Marsland to whom I owe a very great deal - not least throwing me in at the deep end on my first day in journalism. There was no room for passengers. Walter's only assistance was a young reporter called Eric Richmond. After briefly introducing me to the office staff and the compositors upstairs from where, in Garnet Street, I had watched the Times being printed, he dispatched me with Eric to the Luddenden valley to learn how news was collected.
By the end of my first week I was sent home with a somewhat decrepit Imperial typewriter (printing half black and half red) to teach myself how to type, partly by producing a report on a cricket evening at Birchcliffe Baptists.
A week earlier I had retired hurt on calculus at Hebden Bridge Grammar School, all thoughts of becoming a geography teacher set aside. I had responded to an advertisement for a junior reporter and to my delight had won the job. The HBT gave me the happiest days in my journalistic career before I went off to The Yorkshire Post in Halifax in 1952.
The Times office I entered 57 years ago would never have survived the attentions of modern health and safety inspectors. A flood two years earlier had left the ground floor with a tide mark and recurring mud-dust that I had to sweep up every Friday.
On Mondays, in "the black hole of Calcutta" at the rear of the ground floor, the apprentice smoked us out, melting down the slugs of the previous week to provide the metal for the coming week's paper. The furniture was rickety and the typewriters temperamental. But it was bliss even before I became the only lad in the shorthand and typing classes at Todmorden Technical College.
Sir Bernard's fascinating story is told in full in our final issue.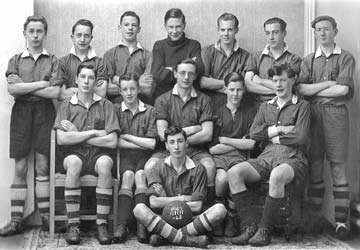 Hebden Bridge Grammar School football team 1947 -'48. Sir Bernard, seated first right, started his career in journalism not long after this photo was taken. AT002 ALGC
---
Read the full story in Milltown Memories, issue 15