Horror At Millwood
Derek Howorth Recalls a Family Tragedy
For most Todmordians, Monday, March 21, 1921, was just another ordinary day spent at work or school, thoughts, perhaps, turning to the forthcoming Easter weekend. But two families would, within hours, experience tragedy which would not be forgotten right up to the present day.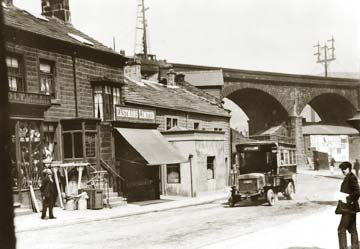 No 2 bus, 1908. Number 2 bus in the Todmorden Omnibus Company fleet, pictured in 1908. Substantially rebuilt, the vehicle became the centre of tragedy in 1921. Reproduced by kind permission of Roger Birch.
The previous Saturday William Howorth had left to visit relatives in Kirkburton, near Huddersfield, leaving behind his large family including 15-year-old son John, known to all as Jack. William wasn't to know that the next time he would see Jack was to identify his body.
Arthur Ward, caretaker at Todmorden National School, had seen his son Harry, aged 14, leave the house to meet friends shortly after dinner-time on the Monday, He, too, would never again see his son alive and well.
Jack had already left school and was working as an apprentice moulder whilst Harry and Robert Edward Outram, another of their friends, were combining schooling with jobs as "little piecer" and warehouse boy respectively. At around 7pm the three pals met up with some other boys and started to play "Relievo," a form of hide-and-seek. Harry and Robert went off to hide around the back of the Corporation bus depot at Millwood.
Behind the garage they came across motor bus number two, one of the oldest in the fleet, which had been prepared for the Easter holidays and, with around two gallons of petrol in the tank, was parked outside prior to being moved into the depot.
The boys decided to hide in the bus and Robert clambered into the driver's cab, quickly followed by Harry and Jack. What happened next was described at the inquest, held two days later at the Unitarian School, Longfield Road. Robert, who said he was the first to get into the cab, heard Harry ask Jack for a match.
Derek movingly describes the ensuing tragedy which engulfed two Todmorden families.
---
Read the full story in Milltown Memories, issue 15