School Built On Eggs!
Mytholm Church of England School (now Hebden Royd C.E. Primary School) has the unique distinction of being built on eggs!
The first church school was held in rooms at Mytholm Mill, loaned by the Vicar of St James, the Rev J.A. Rhodes, who wanted to give local children the opportunity of a wider education. For most of the 19th century Sunday Schools offered working class children their only chance of learning to read and write, although there were private academies and dame schools in the area, catering for the better off.
Moves for a new school at Mytholm began in 1869, prompted by the Vicar, the Rev George Sowden, who opened a subscription to raise funds. To get things off to a flying start he sold his valuable collection of bird eggs for £40!
The original premises, a one-storey building costing £1,427 15s, opened in 1870: the first three scholars on the register were Harry Longbottom, Charles Hartley and Mary Hartley. Since those early days the school has gone from strength to strength, its origins, however, remembered with pride and affection.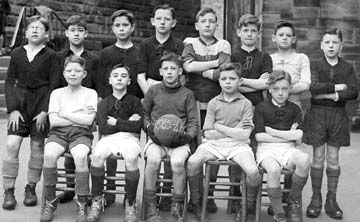 The team that never won a match! Gordon Oldfield, pictured second right on the front row, remembers that 1945 - '46 was a pretty poor season for Mytholm School, Hebden Bridge. "I don't think we won a single match," he recalled. Football boots were impossible to buy during the war, added Gordon, so most of the boys played in hand-me-downs or clogs. The boys are, top row, left to right, Ivor Grimley, Brian Crossley, Ronnie Greenwood, Colin Mason, Ted Bolton, Kenneth Hawkes, Gordon Williams and John Buckley. Front row, left to right, Brian Kershaw, Brian Sunderland, Dennis Smith, Gordon Oldfield and Derek McMahon. no CT219GO
---
Read the full story in Milltown Memories, issue 15