A Stroll down Memory Lane
With Lloyd Greenwood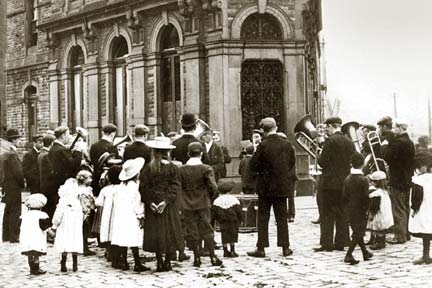 Click photo to enlarge The ornate door guarding Lloyds Bank at the corner of Albert Street and Hope Street forms a solid backdrop as members of what could have been the town's Brass Band tune up. The occasion is unknown as is the exact date. Code no AT 609 ALGC
Lloyd takes us round a part of town where many of the oldest shops and businesses were once concentrated - Albert Street, Commercial Street, Hope Street and Garden Street, the latter now almost unrecognisable post 1960s when dozens of properties were demolished:
Find out where Arnold Binns, the famous Hebden Bridge roller skating champion trained - and who scared the young folk visiting the dentist all in the summer issue of Milltown Memories!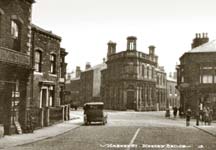 Mistakenly marked as Market Street this is, in fact, Albert Street at a time when cars were beginning to make their appearance and the Economic Stores, left, offered everything the housewife could ask for. Surprisingly little (apart from the traffic) has changed some 80 years later Code no BT033 ALGC.
---
Read the full story in Milltown Memories, issue 8. If this or other stories stirs a memory, we'd be happy to know - send us your memories and comments.