Anyone for Tennis?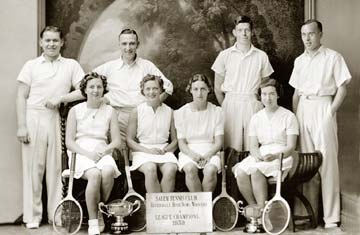 Click photo to enlarge Salem Tennis Club champions of 1939 proudly show off their trophies. Back row, left to right, Harold Hirst, Percy Helliwell, George Crabtree and Norman Lumb. Front, left to right, Denise Lumb, Isobel Stansfield, Joyce Pickles and Jenny Taylor. Reproduced by kind permission of Mr Lloyd Greenwood. Code no BT 286LG.
Before World War Two virtually every church in the Upper Valley boasted its own tennis club, members competing every year for the much-prized Riverdale trophy.
Among the most successful was Salem, pictured in 1939 when members topped the league and won the Riverdale Rose Bowl.
Individual knockout competitions took place and the finals were held at the tennis courts at Calder Holmes, Hebden Bridge, watched by large and appreciative crowds. The men's doubles were the last to be played and a dance at the Co-operative Hall then followed at which teams and individual winners were presented with their prizes.
Salem Tennis Club played at Adelaide Street courts (later occupied by Mytholm flats). The site is now being developed for housing. Tennis was also a great way to meet and many a "love match" continued after the games, married couples continuing to play for their clubs.
---
Read the full story in Milltown Memories, issue 8. If this or other stories stirs a memory, we'd be happy to know - send us your memories and comments.