Luddenden Corner Shop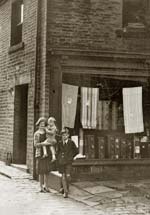 Photo reproduced by kind permission of Mr Stanley Ingham. Code no BT 973SI.
Shackleton and Ingham at 77 High Street, Luddenden, run by Richard Shackleton and Walter Ingham, was a real family business offering customers everything from a packet of pins to a complete range of household furnishings.
Young Stanley, son of Walter, was around 10 years old when he posed with younger brother Hedley and shop assistant Miriam Naylor for this evocative photo, right, circa 1920s. Miriam ran the business for his father who also had a sewing shop in the village.
Now living in Heptonstall Stanley recalled that before opening their own business both his father and Mr Shackleton had worked for Midgley Co-op.
Following the death of his father the family moved to Hebden Bridge where they ran the chip shop at the bottom of Heptonstall Road - where Stanley met his wife Vera.
She was living literally "over the shop" at Bankfoot Terrace and love was soon on the menu along with pie, chips and mushy peas!
---
Read the full story in Milltown Memories, issue 8. If this or other stories stirs a memory, we'd be happy to know - send us your memories and comments.