Jekyll and Hyde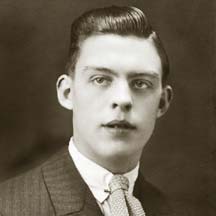 The young Frederick Chatburn.
Reproduced by kind permission of
Mrs Kathleen Iredale. Code no CT 091KI.
The Trusted Employee Who
Brought Down the Co-op
By Issy Shannon
It would have been difficult to find a more respected pillar of the community than Frederick C. Chatburn.
Local preacher and leading light of amateur dramatics, married to a teacher and a trusted employee of Hebden Bridge Industrial Society for nearly four decades.
Yet in 1967 Chatburn was sensationally revealed as a Jekyll and Hyde character who had been fiddling the books of the Co-op for years. His criminal activities finally uncovered, the 120-year-old organisation was plunged into financial ruin and hundreds of local people, who had entrusted their money to the plausible fraudster, lost their life savings.
To the end Chatburn refused to tell the full story. At his bankruptcy hearing in 1969, at which the Co-op was the main creditor claiming £25,303, he was accused by the Receiver of failing to give a satisfactory account of his financial affairs which he said were in the hands of his wife. It was revealed that Chatburn's wife, who was the other chief creditor claiming £4,000, charged Chatburn for living at the home they shared but which she owned.
To this day there are still many who, having suffered severe financial hardship, believe he was always a rogue and a fraudster - a Jekyll and Hyde character who was just very good at acting out the role of trusted employee.
Unfortunately the curtain came down.
An extraordinary general meeting of members, held on October 30 1967, voted that the society should be voluntarily wound up.
At the auction of properties in April the following year the Central Premises failed to reach the reserve price of £8,500 and was withdrawn.
The entire block of shops and industrial premises at Bridge Gate fetched £3,100 and the five branches sold for between £110 (Lees Road) and £160 (Charlestown).
A terrace house at Fairfield fetched £350 and the garage and warehouse went under the hammer for £900.
The Central Premises later sold privately. The Carlton Hotel afterwards occupied the first and second floors closing in 2001. The building is now an apartment block with shops on the ground floor.
---
Read the full story in Milltown Memories, issue 8. If this or other stories stirs a memory, we'd be happy to know - send us your memories and comments.