All Aboard for the Crags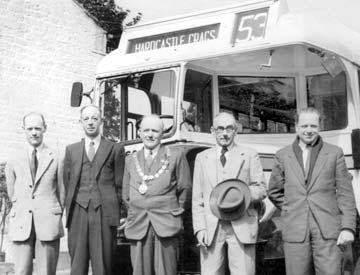 Click photo to enlarge Photos reproduced by kind permission of Mrs Muriel Burnop-Boyce and Mrs Hilary Wheeler, daughter and granddaughter respectively of Coun James Burn. Code no CT 120MBB
Fifty years on and buses to one of the valley's most popular summer destinations are still going strong.
A new service to Hardcastle Crags, operated by Halifax Joint Omnibus Committee, started on July 12 1954 in response to a request from Hepton Rural District Council. Originally run in conjunction with the Cragg Vale- Mytholmroyd route, it later became a service in its own right starting from Hebden Bridge town centre.
It's now part of the Hebden Bridger services and is likely to prove even more popular when Gibson Mill opens as a Visitor Centre next year.
Pictured, are the civic dignitaries and council officials who made that first momentous journey on bus number 53: left to right, Hepton R.D.C. finance officer Tom Mortimer, Coun Everett King, Coun James Burn (chairman), Coun George Broom and Walter Smith, surveyor. The other photo shows one of the buses making its way over Midgehole Bridge.
Photos reproduced by kind permission of Mrs Muriel Burnop-Boyce and Mrs Hilary Wheeler, daughter and granddaughter respectively of Coun James Burn.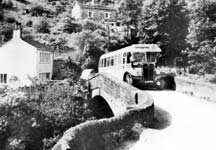 Code no CT 119MBB
---
Read the full story in Milltown Memories, issue 8. If this or other stories stirs a memory, we'd be happy to know - send us your memories and comments.