Over to you: letters
Another bumper postbag includes
a query from Phillip Tordoff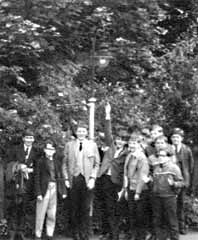 Pupils from Hipperholme Grammar School found it really was a gas
during a visit to Hebden Bridge in 1967. Code no CT210
I have in my possession two old photographs featuring gas lamps in Hebden Bridge.
Photo number one dates from June 1967 when the approach to Hebden Bridge Railway Station was still lit by gas.
Photo number two dating from July 1963, was also taken in Hebden Bridge although its exact location is uncertain. Perhaps a "Milltown Memories" reader could identify the spot? Like many lamps in Hebden Bridge the lie of the land resulted in unusually-mounted lamps such as this one.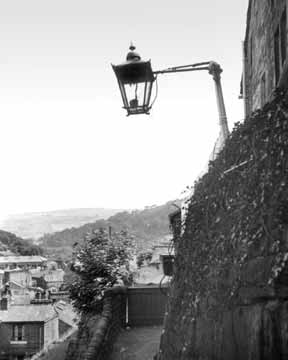 Can you identify the site of this odd gas lamp captured
on camera by Philip Tordoff in 1963? Code no CT209
---
Russell Dean remembers an old friend:
On December 20 last year I lost an old friend. Michael Kilroy was a gentleman, with the emphasis on "gentle." He was also the most naturally humorous man I ever met.
Many years ago I sold Michael a carpet and two weeks later he came into the shop and said: "I've come to pay about the carpet but don't you think youse getting the whole of it `cos I'm going to pay you in three equal halves."
I shall remember him with affection – gone but never forgotten.
---
And from Dr Angela Z. Redmond
Ballylanders
Co Limerick
Republic of Ireland
I must comment on the letter from H. M. Harrison (issue 10) and say that it saddens me when people take it upon themselves to adopt such an unhelpful stance. "Milltown Memories" is a vital asset in perpetuating the cultural and historical resource of the upper Calder Valley, a knowledge that is in danger of being forgotten with the passing of a generation.
The magazine provides a forum for the preservation of our heritage and should be appreciated as such.
---
Read the full story in Milltown Memories, issue 11. If this or other stories stirs a memory, we'd be happy to know - send us your memories and comments.