More Memories of Alice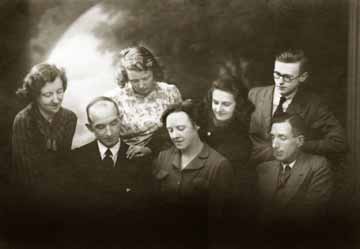 A recently discovered photo of Alice, centre, taken in the studio in 1939. Left to right, Mrs Hazeltine, Alice's brother Clement Speak, Vera Taylor (now Mrs Ingham), Clement's daughter Margery Speak, Harold Sutcliffe and Vera's father James Edward Taylor. Reproduced by kind permission of Mrs Vera Ingham. Code no CT187VI
New information, comments – and corrections! – have come flooding in following the publication of "Alice's Album." We are enormously indebted to everyone and especially delighted that some "mystery" photos have now been identified.
Thanks to painstaking genealogical research by Lynn Davidson – descended from the Speaks herself – we can name Alice's mother as Mary Ann Walton, born in Bingley and daughter of Dinah Walton, listed as a visitor at Lear Ings Farm in the 1901 census, Lynn has discovered in researches going back to 1774.
Fresh information on the Westerman family has also come to light: Diana Monahan reveals the sad story of the death of Crossley's mother Sarah Westerman, who in 1892 fell down the stairs at 25 West End, suffering fatal injuries.
Mrs Audrey Mills, of Birkenshaw, Bradford, writes of her surprise and delight on seeing herself on page 33 of "Alice's Album" pouring tea! " I must have been about three at the time. I can't remember that occasion very well but I do remember having my photo taken later, at age about seven, by Alice."
Several readers pointed out that the young man pictured with Alice on page 46 was Vincent, not Victor Collinge. And while we are on the subject of boobs, Mrs Joyce Morris adds that Highfield Crescent was built in 1935, pre-dating the demolition of Foster Lane Chapel by several decades (page 12).
And, of course, Crossley Westerman was in front of the camera – not behind it, as stated on page 11. Ah well, at least it proves that the book has been extremely well read!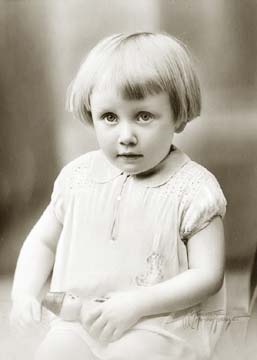 Just a little camera shy and now known to be Maureen Robinson (nee Johnson). ALGC. Code no BT571
---
Read the full story in Milltown Memories, issue 11. If this or other stories stirs a memory, we'd be happy to know - send us your memories and comments.