The Play Must Go On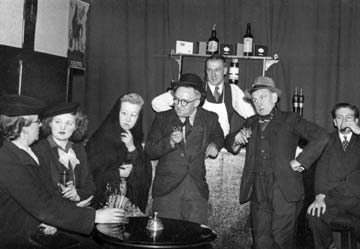 An exciting scene from the play in which Joan made her acting debut. Left to right, Ethel Berwick, Jean Morrison, Flo Conn, Walter Long, Harry Ormerod, Wilf Blackburn and Reggie Blackburn. Code no CT211JL
Joan K. Laprell treads the boards of Moderna Drama Society
I had worked at Moderna for only a short time when one day I was called into the office of works manager Ronnie Marshall, who was also the producer of the popular comedies put on in the canteen two or three times a year. Would I, he asked, like to appear in the next production?
A few minutes later I came out of his office clutching a copy of Walter Greenwood's "The Cure for Love" and told to turn up for a read-through for the part of Millicent Southern the following week.
I was somewhat relieved to discover the rest of the cast, from all departments of the mill, were as nervous as I was and during the next few months we were licked into shape by our excellent producer. We enjoyed some hilarious rehearsals and I began to think that if the audience laughed as much as we did we were onto a winner. Joan tells all in issue 11.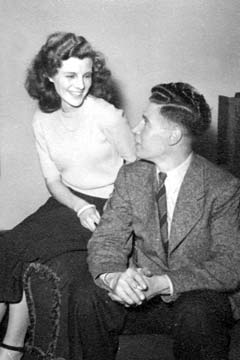 Joan Taylor – now Mrs Laprell – and Jack Dodd take "The Cure for Love" in the 1948 production staged by Moderna Drama Society. Code no CT212JL
---
Read the full story in Milltown Memories, issue 11. If this or other stories stirs a memory, we'd be happy to know - send us your memories and comments.