The Other "Dawson City"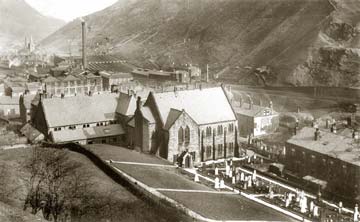 In the hills above Cornholme, pictured here in the early years of the last century, it is still possible to find faint traces of an early settlement occupied by quarry workers and their families, pre-dating Dawson City by many years. ALGC. Code no 097RD Click image to enlarge
Dr Angela Z. Redmond reveals the story behind a mystery settlement near Cornholme:
Although Dawson City remains the primary focus of many upper Calder Valley residents when thinking of navvy shanty towns it was by no means the only settlement of its type to be erected in the area.
As Dawson City began, further up the valley in Todmorden, a similar settlement of itinerant workers was slowly breaking up. The scarred, quarried hillside of Knotts Wood, overlooking the Calder Valley at Cornholme and Lydgate, still bears faint traces of a settlement of quarry workers and their families, who were responsible for the extraction of the stone used in the industrial landscape below.
Two archaeological features hidden in the brush of Hudson's Clough reflect something of these people's lives.
The first is the curving man-made basin of a baptismal pool in the stream itself, and the second an inscribed stone, not unlike the Mass Rocks of Ireland, used by outlawed priests to preach illegally the tenets of the Roman Catholic faith during the 18th and 19th centuries.
Quite who stood and preached on the Mass Rock and baptised babies or older converts into the Roman Catholic Church will probably never be known, but his legacy and with it the shantytown of Knotts Wood survives above the cold waters of Hudson's Clough.
---
Read the full story in Milltown Memories, issue 11. If this or other stories stirs a memory, we'd be happy to know - send us your memories and comments.