Raising Naze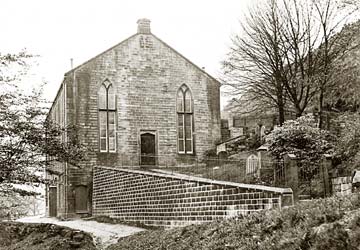 Only the churchyard remains of the first Nazebottom church, known as "the chapel in the woods." As there was no water supply baptisms took place at nearby Jumble Hole dam – winter and summer! In December 1872 no less than 11 people took the plunge, watched by a crowd of over 300. Code no BT140NG ALGC. Click image to enlarge
The new Nazebottom Baptist Church opened amidst great jubilation and ceremony on March 13 1909.
The foundation stones were laid in 1908 and within the year the impressive new building, designed by Hebden Bridge architects Sutcliffe and Sutcliffe, was completed. It replaced the old church further up the valley above Underbank Hall, dating from 1846.
The church survived until the 1980s when it became a private house.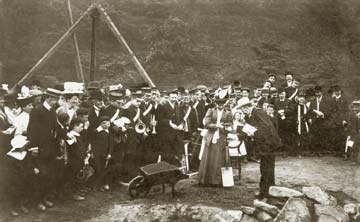 "Laying the sod" of the new Nazebottom Church was an event to be celebrated in style. Rousing music was supplied by members of Nazebottom Temperance Prize Band who can be seen mingling with the crowds. ALGC. Code no BT158NG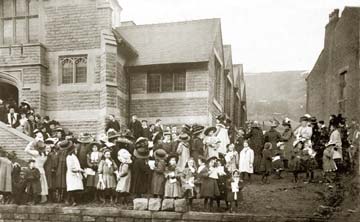 Completed in 1909 the crowds were even greater for the opening of Nazebottom Church. No doubt the band played on this occasion too. ALGC. Code no BT157NG
---
Read the full story in Milltown Memories, issue 11. If this or other stories stirs a memory, we'd be happy to know - send us your memories and comments.