Editorial
It is with great pleasure that we welcome two new faces to "Milltown Memories" - although "familiar" is perhaps a more appropriate word as both ladies are very well known throughout the upper Calder Valley.
Pat Farthing takes over as advertising manager whilst administration is in the capable hands of Ann Kilbey. Many readers will remember Ann from her time as Information Officer in Hebden Bridge; Pat boasts equally invaluable experience gained in the world of business and commerce.
Both ladies play prominent roles in many local organisations and societies, notably Hebden Bridge Local History Society, and their knowledge of the area, and commitment, are second to none.
The first big change readers will notice concerns subscriptions. These are now handled by Ann and all renewal forms, new subscriptions etc should be sent to Ann at: 1 Spa Terrace, Cragg Vale, Hebden Bridge, HX7 5RX Pat can be contacted on: tel (01422) 881332 or 07714 100542.
The roles of myself, as editor, Frank Woolrych, picture editor, and David Fletcher, associate editor, remain unchanged, as are our web site and Email address. Letters and articles intended for publication, and all editorial inquiries, should continue to be sent, as before, to: 6 Melbourne Street, Hebden Bridge, HX7 6AS.
Our autumn number - a bumper third birthday issue! - is a "Hebden Bridge Lit and Sci Special" but there'll be plenty from all corners of the upper Valley too. On sale in September and not to be missed!

Issy Shannon, editor.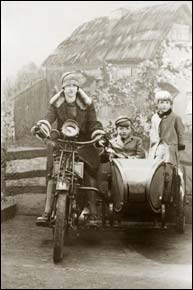 A holiday in Blackpool wasn't complete without a "go" on one of the many attractions. Doris Horsfall and her younger brother and sister Albert and Annie, all from Walsden, try a motorbike for size. Next stop the big wheel and roller-coaster! The date is probably around the 1920s when cloche hats and fur-timmed coats - as sported by Doris! - were all the fashion. Reproduced by kind permission of Mrs Dorothy Smith, Doris' daughter. Code no BT 941DS
---
Read the full story in Milltown Memories, issue 12. If this or other stories stirs a memory, we'd be happy to know - send us your memories and comments.