Over to You
Our lively, ever-increasing post bag includes a letter which solves a mystery surrounding Alice
From Madeline Chadwick,
Whalley
"My mother, Ethel Whitham, will be 93 in June. Before she married she was Ethel Speak, sister of Rennie Speak, a farmer at Colden, and Jack Speak, who had a butcher's shop in Heptonstall. Both, sadly, are no longer with us but all three knew Alice, John and Clement very well.
Mum remembers attending Colden School with Alice when they were small children and well remembers Alice having Scarlet Fever and being taken to hospital in a covered wagon.
Mum was living at Edge Hey Green at the time and thinks Alice would have been taken to the Fever Hospital at Stansfield View, Todmorden. She seemed delicate and missed school often with coughs and colds but later in life seemed to regain her health and enjoyed walking and the outdoor life.
Mum also remembers Alice's mum and dad having a horse called Well!"
---
Also in issue 12: when the "Dukes" paraded in Hebden Bridge, remembered by Donald Gibson of Brighouse, more on Eastwood Pace Eggers, from Mrs Mildred Butterworth of Horsforth, Leeds and Jack Shackleton from Todmorden who recalls: "When the church was demolished I claimed the large stone that read "Eastwood 1840," 20 feet from the ground and which had been blacked out in case the Germans got here in 1940."
It is now planted at my farm gate, at the entrance to the former cotton mill at Higher Eastwood. By sheer coincidence that was built at the same time, 1840" - and in the puzzle of the gas lamps, identified by Michael Helliwell via e-mail - "The gas lamp (issue 11) was situated about 100 yards up the Buttress on the left. I believe there was a large house behind the lamp which could also be accessed from the top of Hangingroyd Road. The building at the bottom would be the Hole in the Wall pub." And Gordon Oldfield, Heptonstall "The lamp was half-way up the Buttress. The gate led to Barker Cleggs' farm yard and the cottage, top right, were the farm hands' houses."
Plus Molly Sunderland identifies our issue 11 cover - and it's all a bit of a "Hole in the Corner" affair!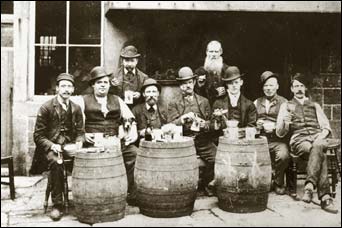 Issue 11 cover photo is identified
Also in issue 12: Denis Mills recalls the exploits of champion pigeon fanciers the King brothers, Tony Butler goes a' roving courtesy of the Calder Valley train line - and what happened when Bismarck visited Todmorden!
If our tasters have tempted you, the new issue of "Milltown Memories" is on sale now at local retail outlets; also available by subscription and via the internet.
---
Read the full story in Milltown Memories, issue 12. If this or other stories stirs a memory, we'd be happy to know - send us your memories and comments.