The Orphans of Luddenden Dean
Issy Shannon uncovers a tragic tale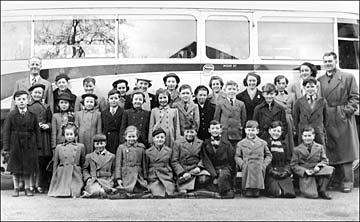 Here the kids didn't miss out, about to board the bus for an outing to Mackintosh's "toffee factory," Halifax, in 1953 or '54. Each received a sweetie bag, recalls former Mayor of Hebden Royd, Stuart Greenwood, fourth right on the front row. Also pictured are, top left, Clement Smith, chief cashier, who organised many of Acre Mill's social events, and top right, Kenneth Greenwood, personnel officer and Stuart's dad. Among the children are Jennifer Greenwood, Fay Fielding (daughter of Clement) and Derek Midgley. Code no AT363
Click image to enlarge
A moss-covered headstone in Luddenden Dean Wesleyan Church graveyard is the only testament to one of the saddest - and most shameful - episodes in local history.
It bears the names of seven girls, the eldest 17 the youngest only 12, employed at Wainstalls Mill at the end of the 19th century. They were among 100 children - many orphans, foundlings, waifs and strays from industrial schools - brought to the upper Calder Valley from Liverpool at the end of the 19th century.
In effect the children were little more than slaves, recruited by textile firm I. And C. Calvert as the answer to a severe labour shortage. They worked long hours in the mill in return for which they were fed, clothed and housed, receiving no wages, just a few pennies a week pocket money.
As late as the 1960s they were still part of living history: the last survivor was Miss Lizzie McGowan, who died aged 88 in 1966, remembered by local people as "a cheerful, friendly soul, who made a good life despite her early difficulties."
The first children arrived in 1879, some as young as 12 or 13 years old. Their feelings on being uprooted from friends and family to be transported across the Pennines to what must have seemed like a foreign country can be well imagined.
Nowadays we would regard the actions of Calvert's management as child exploitation but there is nothing on record to indicate that the company ever regarded their actions as anything other than acceptable business practice. In fact, they regarded it as a praiseworthy act of philanthropy.
---
Read the full story in Milltown Memories, issue 12. If this or other stories stirs a memory, we'd be happy to know - send us your memories and comments.