Wakey! Wakey! Holiday Time in the Upper Calder Valley
Issy Shannon grabs her bucket and spade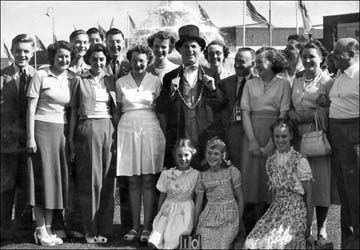 How many faces can you recognise? Local folk couldn't get enough of Filey in the 1950s. This outing was organised by Hebden Bridge butcher Rex Collinge, far right. Reproduced by kind permission of Mrs Jackie Woodhead. Code no CT 095RC
Click image to enlarge
In July 1948 over 600 people left the Upper Valley for a week of sea, sand, sun and fun at Filey.
No doubt the holiday-makers had their fair share of sea, sand and fun but the sun, sadly, refused to come out to play that year: the weather for Wakes Week was distinctly uncooperative, "cool conditions" predominating, reported the local press.
No change there, then, but holidays jetting off to exotic, far-flung climes abroad had yet to make their impact - and Wakes Week was celebrated no matter what!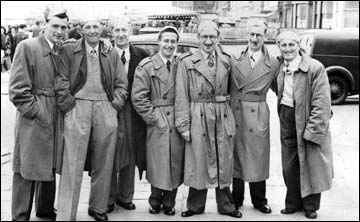 Funny noses donned by maintenance men at Cape Asbestos, Acre Mill, Old Town, for an outing to Blackpool on June 21 1952 make it difficult to recognise some of them but, left to right, are: Brian Dempsey, Joe Thomas, Albert Whittaker, Dennis Holroyd, Jack Vine and, far right, Harry Harding. The gentleman, second from right, remains cloaked in anonymity! Code no CT170
Reproduced by kind permission of Bob Thomas
It hadn't always been so. Until the end of the 19th century holidays for the workers were an unheard-of indulgence. Lancashire cotton towns began the tradition of shutting down for a few days in the summer, called "wakes" even though the name originated from an all-night vigil alongside a corpse. This ritual, however, had increasingly become an excuse for drunken revelry so perhaps the Wakes were well named after all.
The custom soon spread over the border into Yorkshire and a few days off expanded to a week.
Blackpool was always the most popular destination and special excursion trains and coaches were laid on to take hundreds to the coast. Towns and villages were deserted for days on end as mills and businesses shut down for the duration.
But people were becoming more adventurous. As well as the mass exodus to Filey in 1948, holiday-makers also headed off to London, Ireland, Scotland and the Continent. A group from Foster Lane Methodist Church, Hebden Bridge, even ventured as far as Switzerland.
But there was one big compensation for stay-at-homes: at least you got your banana ration, which went on sale during Wakes Week.

The home-bound, too, had the added excitement of a glimpse of stars such as Honor Blackman, Diana Dors, John McCallum and a very young Anthony Newley, who were in the upper Calder Valley filming "A Boy, A Girl and A Bike." Even the stars were extinguished by the poor weather, however, and filming was held up for several days.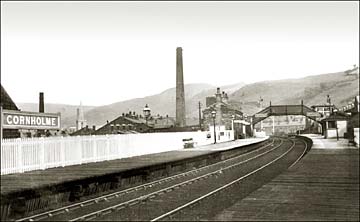 Cornholme Station, pictured here around 1920 when it was quite deserted, was a busy embarkation point for Todmorden and district holiday-makers on their way to Blackpool and other west coast resorts. Code no 084RD
Click image to enlarge
All that was to change by the end of the month when, Wakes Week safely over, a heat wave struck and temperatures soared. A violent thunder storm on July 31 brought an end to the all-too-brief glimpse of summer sun, causing power failures throughout the Valley.
Ah well, there was always next years's Wakes to look forward to......
---
Read the full story in Milltown Memories, issue 12. If this or other stories stirs a memory, we'd be happy to know - send us your memories and comments.