When Tragedy Struck at St Peter's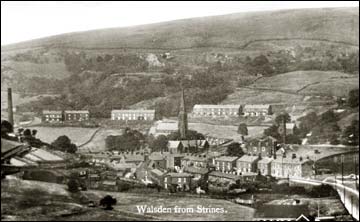 St Peter's Church, Walsden, pictured around 1900: fire was to destroy the main building, leaving only the spire, in 1948. Reproduced by kind permission of Mrs Dorothy Smith. Code no BT929DS
It could have spelled the end when a disastrous fire ripped through St Peter's Church, Walsden, rousing the entire neighbourhood from their beds to watch in horror as the main part of the building was completely gutted.
The vicar, the Rev T.P. Crawford, had just left the building late on the eve of May 29, 1948; less than half-an-hour later the church was "a mass of flames," first witnessed by residents of nearby Dampier Street, alerted by an unearthly orange glow and sounds of cracking glass.
Despite the very quick response of the County Fire Service, who arrived within minutes, the church was ablaze. Spookily the church clock struck at midnight when the inferno was at its height - and continued marking the hours for some time after.
It was to be more than a decade before a new St Peter's rose again from the ashes but "the heart of Walsden" was finally restored in 1961.
---
Read the full story in Milltown Memories, issue 12. If this or other stories stirs a memory, we'd be happy to know - send us your memories and comments.