A Tale of Two Churches
150th Anniversary of Heptonstall Parish Church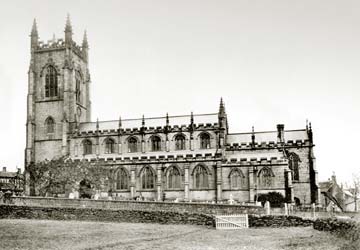 Click photo to enlarge Heptonstall Parish Church
viewed from the new graveyard yard circa 1900. ALGC.
The violent storm which struck Heptonstall in 1847 not only terrified residents but was to have far-reaching consequences.
In 1875 the elements wreaked havoc again. Struck by lightning the south west pinnacle crashed to the ground causing considerable damage and folk dug deep in their pockets once more, to pay for repairs costing (200.
The biggest changes came in 1963 when it was proposed (to entirely rearrange and refurnish the interior in keeping with modern ideas.( Estimated costs of (12,000 were to be met from a bequest left to the church by Abraham Gibson in 1956.
At this time the whole village was in uproar as a seven-year re-development programme got under way: derelict property - (eye-sores that are a disgrace( - were being demolished and a massive clean-up campaign set in motion.
In the meantime refurbishments inside the church were going on apace. Not everyone welcome the (new, steamlined look,( however, and there was some disquiet over the project, completed in 1964
As improvements to Heptonstall continued throughout the 1960s, turning the village into a popular tourist spot, so the churches, too, found themselves the focus of visitors( scrutiny.The village(s new role was not universally welcomed.
One irate resident complained: (Dozens of postcard and trinket shops could turn Heptonstall into a commercial nightmare, its quiet charm lost forever.(
The interior of St Thomas a Becket Church, Heptonstall, prior to refurbishments. HBLSS. BT080HO

Fortunately the village escaped that fate and, as it always has, continues to charm and delight with the churches of St Thomas a Becket and St. Thomas the Apostle at its heart.

The full story of both the old and new churches - and the mystery of the priest murder in 1483! - is told in Issue 9 of "Milltown Memories," which also includes the ghostly tale of "The Green Lady of Blakedean," bumper "Over to You" and "Desperately Seeking" features - and why Mrs Adams, of Dawson City, bared her bottom!
| | |
| --- | --- |
| Artist Geoffrey Coning summed up the situation in Heptonstall perfectly, in this cartoon from 1966. The late Mr Coning had a studio in the village in the 1960s and his work was widely known. Reproduced by kind permission of Studio Seven, Hebden Bridge. (CT057) | |
---
Read the full story in Milltown Memories, issue 9. If this or other stories stirs a memory, we'd be happy to know - send us your memories and comments.