A Stroll Down Memory Lane
With Lloyd Greenwood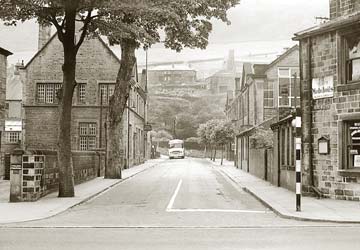 Click photo to enlarge Holme Street, Hebden Bridge, remembered by Lloyd when it still boasted two magnificent trees and a garage occupied the site of what is now the Little Theatre. HBLSS.
In the last in the series Lloyd takes us down Holme Street and along the canal tow-path, once home to mills and industry:
Our thanks to Lloyd for his evocative re-creation of days in Hebden Bridge now long gone and the memories he has shared with us. A new series looking at by-gone days in Todmorden and district starts in our next issue.
---
Read the full story in Milltown Memories, issue 9. If this or other stories stirs a memory, we'd be happy to know - send us your memories and comments.