The Old Church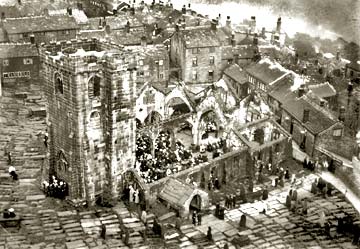 Open air services were held at the old church for many years. The vantage point for this remarkable photo dated 1900 is the tower of the new church adjoining the ruins. HBLSS. (723)
Although the exact date is unknown, records suggest that a church was built at Heptonstall in the late 12th century not long after the murder in 1170 of Thomas a Becket.
No trace of the original church remains. The chapelry dedicated to God and St Thomas a Becket was established in 1260, probably on the site of the present ruins.
The graveyard around the two churches is reputed to hold the remains of 100,000 bodies, among them that of (King( David Hartley, leader of the notorious Cragg Vale Coiners, who was hanged at York in 1770 for his part in the counterfeiting conspiracy.
Heptonstall has the almost unique distinction of having two churches in one graveyard: the only other places sharing this peculiarity are Westminster Abbey and South Walsham, Norfolk.
---
Read the full story in Milltown Memories, issue 9. If this or other stories stirs a memory, we'd be happy to know - send us your memories and comments.