How a Weavers' Strike Laid a Golden Egg!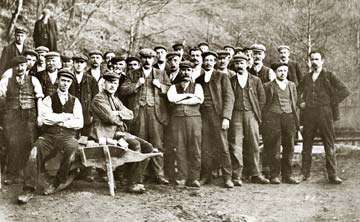 Click photo to enlarge Weavers all over Hebden Bridge came out on strike in 1906, a dispute that was to last for many months and lead to great hardship. Among them was Edgar Thornber who then laid the foundations of a massive chick breeding empire. ALGC (BT153NG)
The Amazing Story of the Valley's "Other" Industry
The Upper Calder Valley's long associations with textiles are well known and documented.
Yet nearly 100 years ago the foundations were laid for an industry which went on to be the biggest of its kind in the world.
In its heyday there were over 200 chick breeding firms in the area, forming an important part of the local economy.
How young Edgar, together with brother Ralph, went on to establish Thornber's is told in full in "Milltown Memories." Mildred Butterworth also describes her experiences working for Finney's, of Todmorden, in "Hatched, Matches and Dispatched."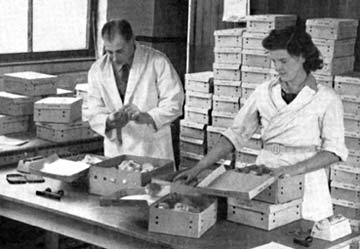 Handle with care! Chicks receive kid glove treatment
from Mildred Butterworth and colleague. (Finney 03)
---
Read the full story in Milltown Memories, issue 9. If this or other stories stirs a memory, we'd be happy to know - send us your memories and comments.