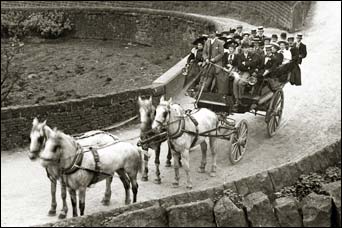 The majority of visitors to Hardcastle Crags went by Shanks's pony but if you didn't mind squeezing up, travel by wagonette was a popular alternative. Hebden Bridge carriers offered a horse-drawn service to passengers such as this party of 20 plus pictured in 1910, who don't seem overly concerned by the perils involved Code no g86610JU - Jack Uttley Photo Library


Milltown Memories is a glossy magazine devoted entirely to the Upper Calder Valley, West Yorkshire.
Click items on the left for taste of features and photos included in the Summer 2004 issue of Milltown Memories. Or click on the photo above to see a larger version.
Issue 12 is on sale (£2.80) now throughout the Upper Calder and at selected outlets in Halifax. You can order online this and previous issues, or by post from Milltown Memories at: 6 Melbourne Street, Hebden Bridge, HX7 6AS. Tel: 01422 845050.
A subscription makes an ideal gift!
Your are visitor since Wednesday, September 18, 2002