Oh No He Isn't!
Oh Yes He Is!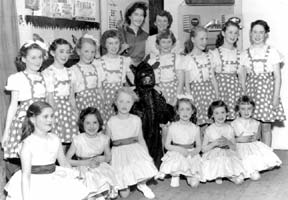 Click photo to enlarge. Top row, left to right, Salem Sunbeams Elizabeth Ogden, Jennifer Pogson, Sheila Uttley, Dinah Simkin, Susan Marshall, Margaret Leach, Gillian Clegg and Linda Savage. Front row, left to right, Elizabeth Keen, Margaret Haworth, Gillian Leach, Hilary Bird, unknown girl and Joan Portsmouth. Anne Cooper, who played the title role, and Myra Powney are at the back. But who played the cat? HBLSSALGC
Christmas wasn't Christmas without the annual pantomime performed by virtually every amateur theatrical society and church drama group throughout the Upper Calder Valley.
In 1959 the Salem Sunbeams, were strutting their stuff in the Methodist Church Sunday School's production of "Dick Whittington" (not forgetting his cat!).
| | |
| --- | --- |
| Our very own Lloyd Greenwood, right, had a starring role in most of the productions, usually playing a part demanding the ability to carry off a towering headdress with aplomb! A mystery still surrounds "Dick Whittington," however. Exactly who played the all-important role of the hero's cat? After all this time can you identify our fine feline friend? | |
---
Read the full story in Milltown Memories, issue 6. If this or other stories stirs a memory, we'd be happy to know - send us your memories and comments.