Just Bobbin' Along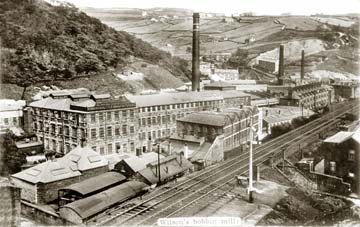 Click photo to enlarge. Wilson's Bobbin Works dominated Cornholme for most of the last century and earlier. This undated photo shows the mill when it was a towering presence in the valley.ALGC
Wilson's Bobbin Mill once dominated the village of Cornholme.
The vast four-storey building, with its eye-catching clock bridge spanning Burnley Road, was erected in 1880 following a fire which gutted the original premises.
The mill exported bobbins, charcoal and firelighters all over the world, to places as far away as India and Japan.
Disaster struck in 1888 when a massive fire tore through the premises, causing damage estimated at £20,000 and throwing over 400 people out of work.
The factory was re-built and by 1891 the workforce had increased to 500. Business was so good a base was established at Garston, near Liverpool, but this expansion was to prove the death knell for Cornholme.
The new branch quickly outstripped the Yorkshire mill and by 1902 had become the headquarters of the company. Less than 30 years later the Cornholme works was closed down altogether.
---
Read the full story in Milltown Memories, issue 6. If this or other stories stirs a memory, we'd be happy to know - send us your memories and comments.