1901 - That Was The Year That.......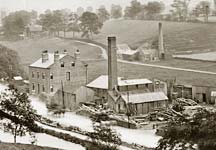 Maud's clog factory, Mytholmroyd, before the huge fire which completely destroyed the original wooden building. Discovered late at night by a railway signalman on duty nearby, fire brigades from all over the Calder Valley battled the blaze for many hours. Over 90 years later fire ripped through the mill, now tourist attraction Walkley Clogs, once again. The mill re-opened but closed for good in 2003. AGLC
Queen Victoria died at the age of 81 and the nation mourned the end of the longest reign in British history.... The Commonwealth of Australia was established.... And the first Nobel prizes were awarded.
Locally a summer heat wave had people wilting in the streets.... The opening of new tramways continued apace.... And the case of a girl in Halifax, who died of rickets, caused widespread horror.
The following are just a few events which happened in this momentous year: January 25: Robert Crabtree, 73, an inmate of Todmorden Union Workhouse, died whilst being transported from Hebden Bridge.
April 24: Lumbutts Road, from Copperashouse Bridge to the bottom of Shaw Wood, was declared toll-free.
April 25: Opening of the tramway as far as Luddendenfoot. The tramway was extended to Mytholmroyd by July 1 but was not to reach Hebden Bridge until the following year.
July 20: The hottest day locally, in an "unbearable" heatwave during which temperatures reached 90 deg F.
July 21: "The spell of intense heat, which had continued for some three weeks, was broken this afternoon by a thunderstorm which swept over a wide track of the country. A house at Hollinroyd, in Stansfield, the residence of Mr John Ashworth, was struck by electric fluid, but fortunately no personal injury was sustained." (Todmorden and Hebden Bridge Historical Almanack).
September 12: Drought was causing widespread problems, especially at Heptonstall. Rochdale Canal Company shut the Summit section between Todmorden Wharf and Littleborough, warning it would remain closed to traffic "until sufficient rain has fallen to replenish the Company's reservoirs."
November 12: Todmorden was hit by "tumultuous" flooding which blocked the railway for several hours. Mills and schools were closed.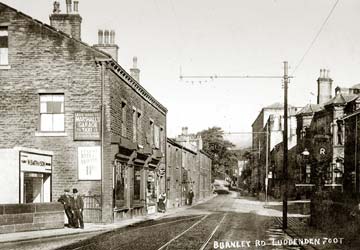 Click on photo above to enlarge. Luddendenfoot was the first Upper Calder Valley community to enjoy the benefits of the new tramway system. The lines running all the way to Hebden Bridge, where they terminated, are clearly visible in this photo dating from the 1920s. HBLSS
---
Read the full story in Milltown Memories, issue 6. If this or other stories stirs a memory, we'd be happy to know - send us your memories and comments.