A Close Shave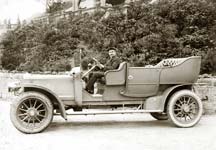 Posing proudly in the latest in luxury limousines, chauffeur to the Simpson-Hinchliffes, Mr Durdy, was to prove a hero when he narrowly averted disaster. ALGC
Removing boilers and getting new ones into mills was always an exacting and difficult job.
In 1909 a portable engine was being taken by horse-drawn wagon down Church Bank Lane, Cragg Vale, when the safety chain on one of the wagon wheels snapped.
The driver desperately tried to keep control but had to jump clear as horse, wagon and engine hurtled down the road, eventually crashing through a wall into the stream beyond.
At the same time Mrs Simpson-Hinchliffe was being driven up the road by her chauffeur, Mr Durdy. On rounding the bend and seeing the wagon and engine heading straight towards him, Mr Durdy showed great presence of minding by quickly slamming the car into reverse and getting it out of harm's way.
---
Read the full story in Milltown Memories, issue 6. If this or other stories stirs a memory, we'd be happy to know - send us your memories and comments.