When the Circus Came to Town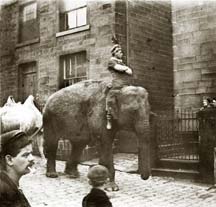 The very rare photo of the circus parading down Commercial Street, Hebden Bridge, has been reproduced with the kind permission of Keith Hallsworth of Collectors' Corner, Hebden Bridge.
It is not known when the photo was taken but a news report of a performance by Fossett's Circus in 1881 sets the scene.
Having paraded around the town centre the circus pitched tent at Robinson Holme. Entry for the afternoon show was 2d (1d for the under tens).
Not everyone was impressed. The reporter rather disdainfully commented: "The appearance which the troupe made was not so dashing as some of the first class establishments of this kind. Still it was pleasing to see it and the curiosity for spectacle which possesses most people was as usual exhibited."
There was grudgingly praise for the evening show (tickets increased to 2s, 1s and 6d): "Were we to go into particulars we might write a good portion of a column in describing the performances, which were very good and varied, and drew down considerable applause from the spectators."