A Stroll down Memory Lane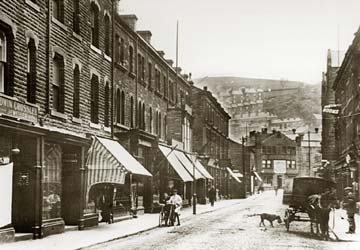 Click photo to enlarge. Market Street, Hebden Bridge, circa 1900 looking east. The scene was leisurely enough to allow pedestrians - and dog! - to linger in perfect safety. First left is Edwin Crossley Jewellers while further down Habergham's "posh" emporium lured shoppers. Muse Music and Studio Seven are among retailers occupying this block today. ALGCALGC
With Lloyd Greenwood
Market Street was the main shopping street in Hebden Bridge in Lloyd's younger days. In the latest in his fascinating series, he takes us on a tour in his own inimitable way. Here are some highlights:
Just over the road from Hebble End, the first shop sold sweets, better known in those days as a spice shop, Astin's at Bar House - presumably there had, at some time, been a toll bar there. Strangely enough there was another sweet shop next door, Stansfield's, later run by Harold Ashworth, where you could also book a coach trip to Blackpool.
Harold Horner's barber's shop was next, in part of the premises occupied by R. Sutcliffe and Co, known locally as The Combine. While you were in there having your hair cut you could hear the machinery of Roger Shackleton's weaving shed at the back.
Dr Clegg had his consulting rooms at Riverside House at the end of Market Street, where I was one of his first patients. He diagnosed me with scarlet fever and I was sent away to Fielden Hospital for six weeks.
Over the road, Commerce House was, until recently, one of the last of the old shops. It has now become a cafe. Next is the antiques centre, formerly the premises of the "Hebden Bridge Times" and before that the old Ebenezer Chapel.
Now we come to the actual source of the name, Market Street, for there used to be a covered area here where the market was held. Next to this was Hilbert's greengrocers and fishmongers, later Rhodes and Sugden, who also had a motor vehicle which delivered round the district.
Martin's Bank, and before that the Post Office, had the premises where Barclays Bank is now. Argenta butchers shop was next - in the 1960s Dewhirst's took over and if you look closely you can still see the name on tiles which have since been painted over.
Lloyd visits West End in our next issue - where Nicky's Café held sway and Alice Longstaff had her studio.
---
Read the full story in Milltown Memories, issue 6. If this or other stories stirs a memory, we'd be happy to know - send us your memories and comments.