A Stroll down Memory Lane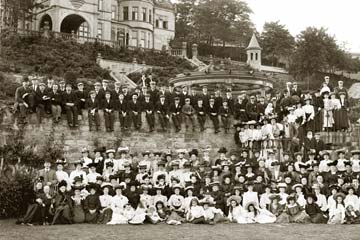 Click photo to enlarge. Household staff, estate workers and families from Cragg Vale gathered in the grounds of magnificent Cragg Hall for this photograph, one of the most remarkable in the Alice Longstaff Gallery Collection taken by Crossley Westerman. The date is 1907, when the hall was completed and all are wearing their Sunday best. Amazingly, every single person has been identified: a complete list will be included with all print orders. ALGC
Nearly three centuries separated the building of two Upper Calder Valley homes - the first dating back to the Jacobean age and the second erected at the beginning of the 20th century.
Both have strange tales to tell - but only one has survived to the present day:
Old Cragg Hall is easy to miss, standing modestly on Cragg Road behind a curtain of trees.
Little is known of its early history but it is reputed to have that one essential feature of any self-respecting ancient property - its very own ghost in the form of a servant girl, alleged to have been murdered in the porch chamber. (The chilling tale of the Maid of Cragg Hall is also told in Issue 6 of Milltown Memories).
It had fallen into serious disrepair when it was purchased by Mr Christopher Rawson, of Halifax, in the 1830s, who restored it and used it as a shooting lodge. Mr Rawson was succeeded as owner-occupier by local manufacturer Mr Hinchliffe Hinchilffe, whose family were to build the impressive, but ill-fated, "new" Cragg Hall nearby.
Cragg Hall was erected in 1904 by Mr William Algernon Simpson-Hinchliffe and his wife Helen, who were nothing if not keen to impress the neighbours.
Elizabethan in style, local stone and labour were used in the building of what locals called the "lower" hall, to differentiate it from Old Cragg Hall, which stood on the well-wooded hillside above. But disaster struck on August 11, 1921, when fire broke out in the showpiece mansion.
Issy Shannon tells the full story of the two halls.....and what has survived into the 21st century.
---
Read the full story in Milltown Memories, issue 6. If this or other stories stirs a memory, we'd be happy to know - send us your memories and comments.